Making friends is not as easy as it was when we were kids. Gone are the days of summer camp and prearranged playdates. Not only is it difficult to find new friends, it is challenging to maintain the existing the friendships that we already have.
A good friend can last a lifetime. It is important to cherish these relationships and give them special attention. Whether you're looking to attract new positive relationships or nurture friendships you already have, these affirmations will help guide you along in your journey. You can also use these affirmations for inspiration and add your own personal touch. Looking to print these affirmations? Check out our page of printables.
"You can make more friends in two months by becoming interested in other people than you can in two years by trying to get other people interested in you."

–Dale Carnegie
Affirmations to attract friends
1. I attract positive relationships into my life.
2. I am excited to meet new people.
3. I love when new people come into my life.
4. I am a good friend, and I attract good people into my life.
5. I make friends easily.
6. Positive people are drawn to me.
7. I am a loyal friend, and I surround myself with positive people.
8. I deserve to be surrounded by loyal people.
9. I have positive and supportive relationships in my life.
10. I am grateful for the positive people in my life.
11. I have a positive energy that I would like to share with others.
12. I surround myself with inspirational people.
13. I am a magnet for genuine, like-minded people.
14. I am surrounded by love from my friends.
15. I choose to surround myself with positive people.
16. I naturally attract positive relationships into my life.
17. The right people come into my life at the right time.
18. I am a magnet for positive, trustworthy people
19. I enjoy meeting new people that will inspire me.
20. I feel relaxed when I meet new people.
21. I deserve to have strong friendships in my life.
22. I am ready to make new, lasting friendships.
23. I am ready to trust a new friend in my life.
24. I am a likeable person.
25. Meeting new people and making new friends is fun.
26. I treat people with respect, and they treat me with respect.
27. I choose to fill my life with strong, positive people.
28. People enjoy spending their time with me.
29. I am worthy of new, happy relationships.
30. I attract non-judgmental people into my life.
31. I choose to surround myself with love and positivity.
32. My friends love me for who I am.
33. My heart is open for new, positive friendships.
34. I am ready to be a good friend.
35. I am a magnet for dependable friends.
36. I am accepting of others.
37. I deserve love and friendship.
38. I cherish and treasure the friendships in my life.
39. Meaningful friendships are important to me.
40. I look forward to spending quality time with new friends.
41. My friends encourage me to be my best self.
42. Positive people come into my life every day.
43. I find it easy to connect with others.
44. This is a great time for me to meet new friends.
45. I create meaningful relationships with people.
46. I am the kind of friend anyone would be happy to have.
47. I choose to maintain healthy relationships.
48. I attract people that are friendly and silly just as I am.
49. Socializing with new people comes easily to me.
50. Positive and optimistic people are drawn to me.
51. I attract people who share my interests.
52. I am confident when speaking in groups of people.
53. I am good enough to have fulfilling relationships.
54. Wherever I go, I make new friends.
55. I attract people that look out for my wellbeing.
56. I deserve friendships that will last a lifetime.
57. Everywhere I go, there is an opportunity for friendship.
58. I have a robust social life.
59. People appreciate and value my company.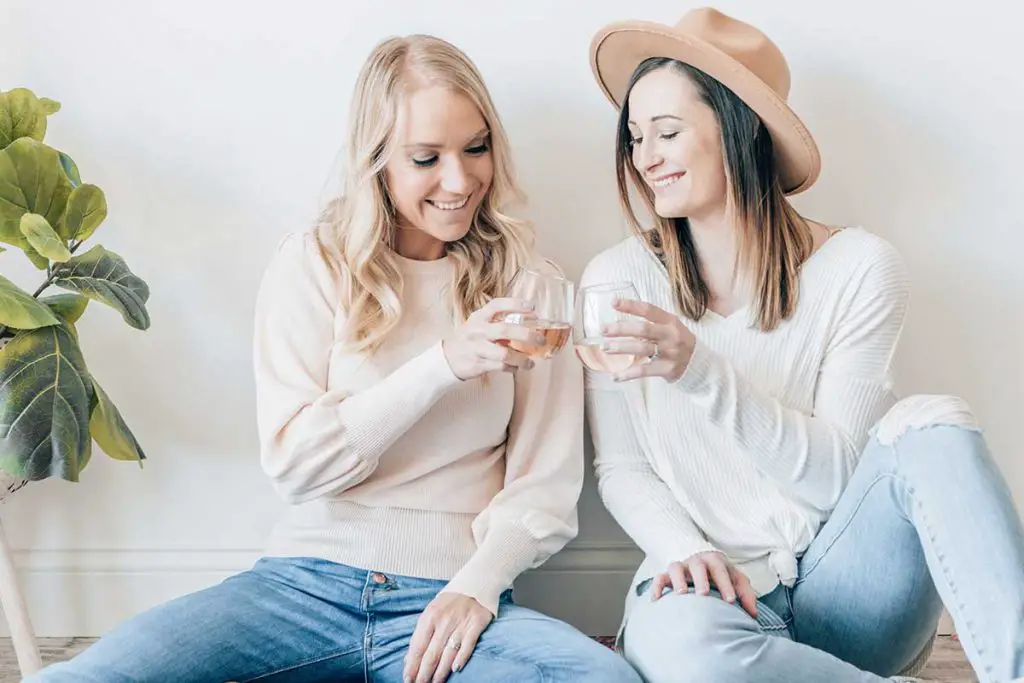 Gratitude affirmations for friends
60. I have wonderful friendships in my life.
61. I am grateful for the friendships in my life.
62. My friends are inspiring and inspirational people.
63. I am thankful for my existing friendships.
64. My friends are irreplaceable.
65. I love my friends and cherish them.
66. My friendships bring me great joy.
67. When my friends need me, I am there for them.
68. I cherish the company of my existing friends.
69. My friends support and encourage me, and I appreciate them for that.
70. I would not be who I am without my good friends.
71. My friends know I love them.
72. My friends always make time for me, even if they are busy.
73. My friends forgive me when I make mistakes.
74. My friends are always teaching me something new.
75. My friends value me and treat me well.
76. My friends know how much they mean to me.
77. When I am around my friends, I am an authentic person.
78. My friends know me better than anyone else.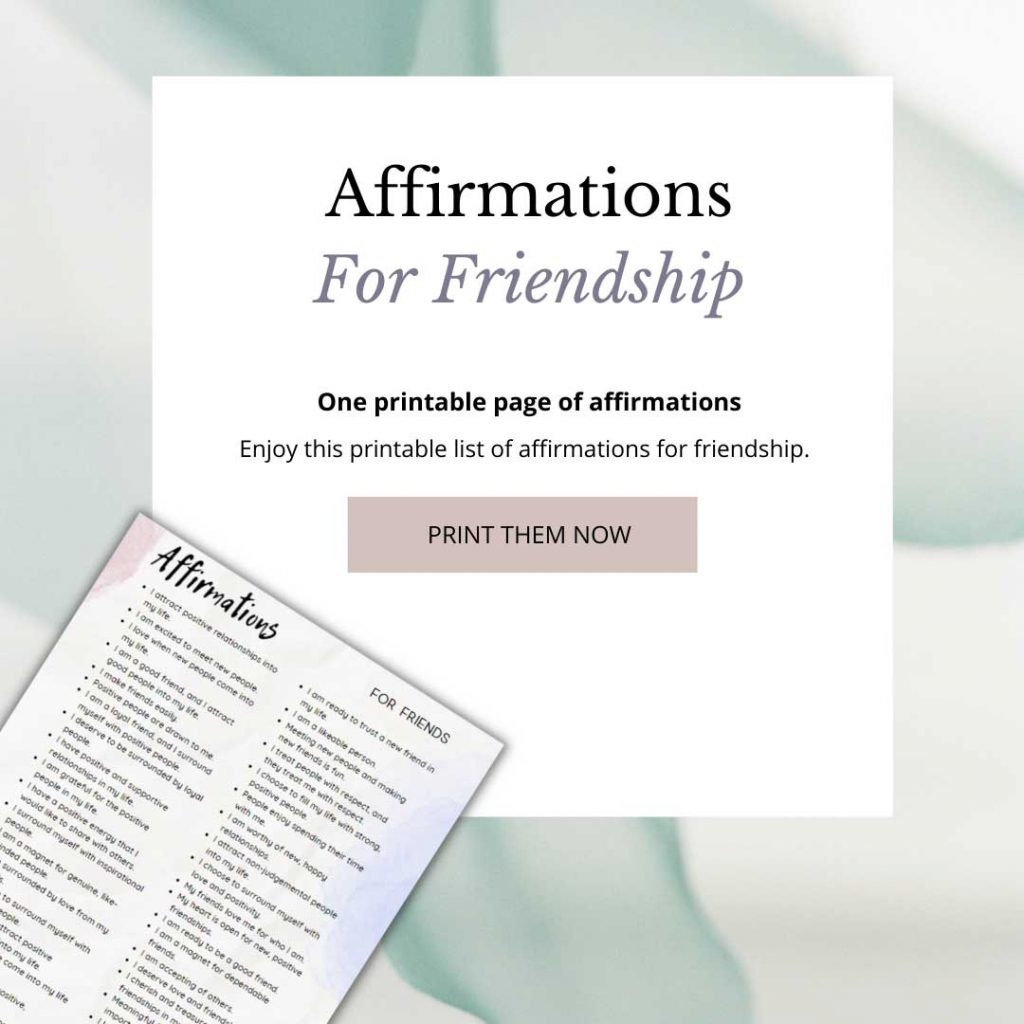 How should you use these affirmations for friends?
Choose a few affirmations that you would like to focus on. Write them down on a piece of paper or in your journal. Choose what time of day you would like to establish your new habit. You can choose to say your affirmations in the morning after waking up and starting your day, and also again before you fall asleep. You can also say your affirmations in the middle of the day if that works better for you.
Repeat each affirmation around 15 times per session, at least twice a day. Remember to focus and use intention. This number is not set in stone. If you feel more connected to a smaller number, you can repeat your affirmation that many times. For example, if 8 is a special number to you, then repeat your affirmation 8 times per session.
You can say the affirmations out loud, or repeat them silently in your head. It can also be helpful to write the affirmations in places you will see them. You can jot them down on sticky notes and place them on your mirror. Or, you can put them on your fridge.
Most importantly, remember to be patient and to trust in your affirmations!
Podcast episodes about making new friends
Here are some podcast episodes specifically about making new friends and nurturing friendships.
Hopefully, these affirmations will help guide and inspire you when attracting new, positive relationships into your life. Practice these affirmations daily with intention and gratitude. Don't forget: you have amazing energy to offer the world, and you are worthy of friendship!
"Getting to know new people and gaining new friends is one of life's greatest pleasures. So conquer your fears and get out there."

– Tony Clark