Making friends is not as easy as it was when we were kids. Gone are the days of summer camp and prearranged playdates. Not only is it difficult to find new friends, it is challenging to maintain the existing the friendships that we already have.
Many people feel like they've already earned their "bestie for life" merit badge by the time they hit 16, but the truth is, adult friendship isn't always so permanent. Sometimes you lose touch with people as life goes on, and other times there's drama that gets in the way of your relationship.
A good friend can last a lifetime. It is important to cherish these relationships and give them special attention. Friends are the family you choose for yourself. They don't come with all the strings that blood relatives have, but they are people that will be there for you no matter what. Sometimes you drift apart, but almost always there's some kind of connection that brings them back into your life. That's why it's so hard when you lose touch with them, either by choice or circumstances beyond your control.
A true friend is someone you want to be around all the time. They make your bad days better and they are always in your corner, rooting for you to succeed. They will always tell you the truth, even when it hurts and they accept you for who you are. You can share your deepest secrets and know that they won't tell anyone.
Whether you're looking to attract new positive relationships or nurture friendships you already have, these affirmations will help guide you along in your journey. You can also use these affirmations for inspiration and add your own personal touch. Looking to print these affirmations? Check out our page of printables!
"You can make more friends in two months by becoming interested in other people than you can in two years by trying to get other people interested in you."

–Dale Carnegie
Benefits of using affirmations for friendship
Friendship is one of the most important relationships we have in our lives. Good friends are there for us when we need them, and they help us to navigate life's challenges. While we all hope to find true friendship, it can sometimes be difficult to maintain healthy friendships. This is where affirmations can come in handy.
By using positive statements about friendship, we can program our mind to focus on the good that exists in our relationships.
Affirmations can help us to attract more positive relationships into our lives.
Friendship affirmations can help us to let go of negative beliefs about friendship that may be holding us back.
Using affirmations can help open ourselves up to new possibilities and experiences.
Affirmations To Attract Friends
I attract positive relationships into my life.
I am excited to meet new people.
I love when new people come into my life.
I am a good friend, and I attract good people into my life.
I make friends easily.
Positive people are drawn to me.
I deserve to be surrounded by loyal people.
I am grateful for the positive people in my life.
I have a positive energy that I would like to share with others.
I am surrounded by love from my friends.
I choose to surround myself with positive people.
The right people come into my life at the right time.
I am a magnet for positive, trustworthy people.
I feel relaxed when I meet new people.
I am ready to make new, lasting friendships.
I am ready to trust a new friend in my life.
I am a likeable person.
Meeting new people and making new friends is fun.
I treat people with respect, and they treat me with respect.
I choose to fill my life with strong, positive people.
People enjoy spending their time with me.
I am worthy of new, happy relationships.
I attract non-judgmental people into my life.
I choose to surround myself with love and positivity.
My friends love me for who I am.
My heart is open for new, positive friendships.
I am ready to be a good friend.
I am a magnet for dependable friends.
I am accepting of others.
I deserve love and friendship.
I cherish and treasure the friendships in my life.
Meaningful friendships are important to me.



My friends encourage me to be my best self.
Positive people come into my life every day.
I find it easy to connect with others.
This is a great time for me to meet new friends.
I create meaningful relationships with people.
I am the kind of friend anyone would be happy to have.
I choose to maintain healthy relationships.
I attract people that are friendly and silly just as I am.
Socializing with new people comes easily to me.
Positive and optimistic people are drawn to me.
I attract people who share my interests.
I am confident when speaking in groups of people.
I am good enough to have fulfilling relationships.
Wherever I go, I make new friends.
I deserve friendships that will last a lifetime.
Everywhere I go, there is an opportunity for friendship.
I have a robust social life.
People appreciate and value my company.
I have wonderful friendships in my life.
I am a loyal friend, and I surround myself with positive people.
I have positive and supportive relationships in my life.
I surround myself with inspirational people.
I am a magnet for genuine, like-minded people.
I enjoy meeting new people that will inspire me.
I deserve to have strong friendships in my life.
I look forward to spending quality time with new friends.



I attract people that look out for my wellbeing.
My social circle is full of people who are kind and caring towards others
It is easy for me to talk to new people without any fear of being rejected.
My friends are happy for me when good things come into my life, and they celebrate with me.
I attract kind, friendly people who want to invest in our friendship.
Friendship is one of the most important aspects of my life, and it brings me great fulfillment.
I am an intelligent, fun-loving person who attracts like-minded people into my life.
There is always time to invest in friendships that bring me joy and happiness, no matter how busy I may be.
I have plenty of friends who appreciate me for being myself.

Gratitude Friendship Affirmations
I am grateful for the friendships in my life.
My friendships are truly precious to me.
I am filled with gratitude for all the wonderful friendships I have, and I can learn new things from each of them.
My friends are inspiring and inspirational people.
I am thankful for my existing friendships.
My friends are irreplaceable.
I love my friends and cherish them.
My friendships bring me great joy.
When my friends need me, I am there for them.
I cherish the company of my existing friends.
My friends support and encourage me, and I appreciate them for that.
I would not be who I am without my good friends.
My friends know I love them.
My friends always make time for me, even if they are busy.
My friends forgive me when I make mistakes.
My friends are always teaching me something new.
My friends value me and treat me well.
My friends know how much they mean to me.
When I am around my friends, I am an authentic person.
My friends know me better than anyone else.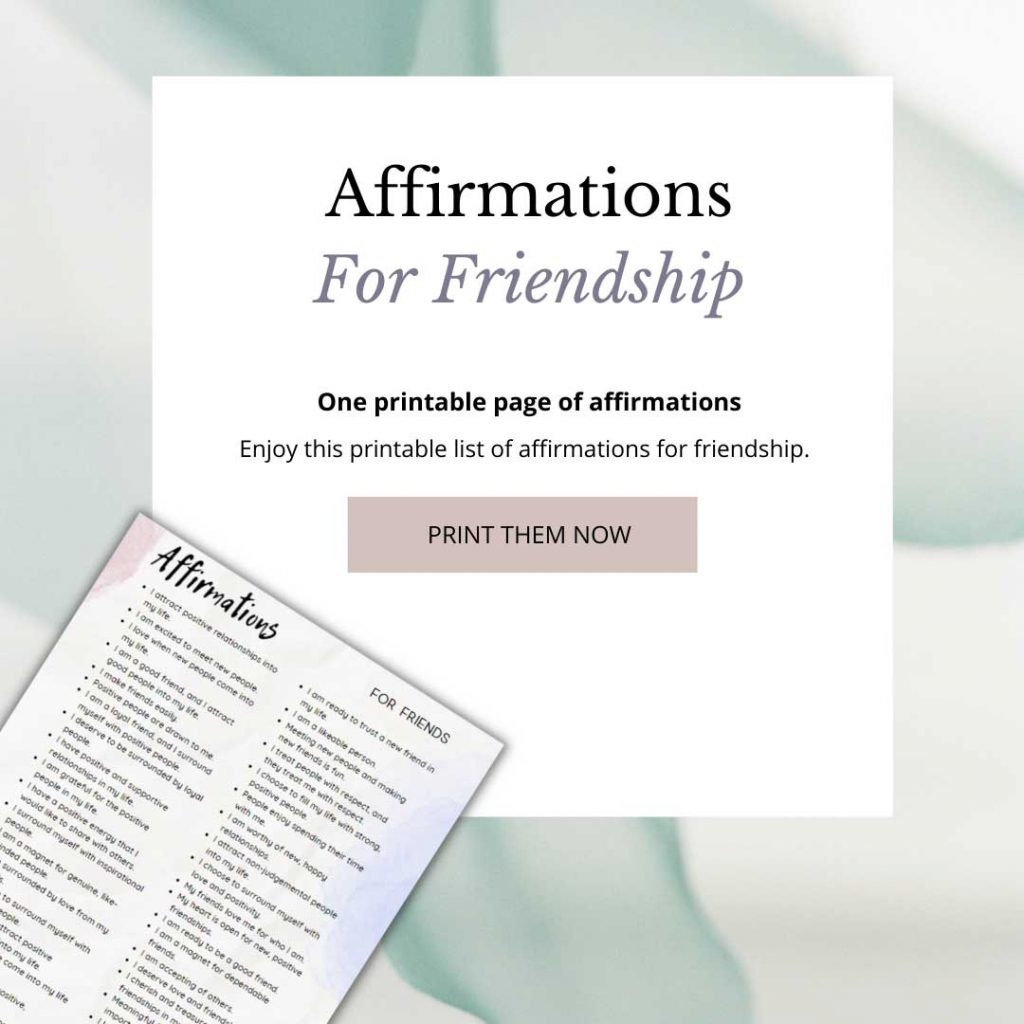 How should you use these affirmations for friends?
Using affirmations can position yourself in a more positive mindset and set the tone for your day. This way, when opportunities arise, you are able to act on them.
When using affirmations about friendship, it's important to visualize your ideal situation. Think of the type of friends you'd like to attract. For example, they would be supportive of your goals and they'd be there through the good times and the bad times. Think of what it would be like to have this friendship and repeat the affirmations in your head daily. If you act like the person you want to attract, they will be drawn to you.
Steps for using these affirmations:
Choose a few affirmations that you would like to focus on. Write them down on a piece of paper or in your journal. Choose what time of day you would like to establish your new habit. You can choose to say your affirmations in the morning after waking up and starting your day, and also again before you fall asleep. You can also say your affirmations in the middle of the day if that works better for you.

Repeat each affirmation around 15 times per session, at least twice a day. Remember to focus and use intention. This number is not set in stone. If you feel more connected to a smaller number, you can repeat your affirmation that many times. For example, if 8 is a special number to you, then repeat your affirmation 8 times per session.

You can say the affirmations out loud, or repeat them silently in your head. It can also be helpful to write the affirmations in places you will see them. You can jot them down on sticky notes and place them on your mirror. Or, you can put them on your fridge.
Most importantly, remember to be patient and to trust in your affirmations!
Podcast episodes about making new friends:
Here are some podcast episodes specifically about making new friends and nurturing friendships. Listening to podcasts is a great way to make your commutes time productive!
Apps and websites for making new friends:
With all the websites and apps we have access to today, it's easy to make new friends no matter where you are in the world. They're not just for dating! While nothing beats meeting people in person, here are some great places to meet people online.
To make a true friend, you have to be a true friend. The saying "It's better to have one or two amazing friends than 20 average ones" is true, and it's the little things that matter most. Someone who always picks up the phone when you need to talk, makes time for you and is always ready to lend a hand.
The best part about having a friend is that they're yours for life. Even if you move away, meet someone new or go through a rough patch, they'll always be there for you. You can pick up right where you left off, no matter how much time goes by.
Let's get personal: I have always been an introvert, and for that reason, it has always been difficult for me to make new friends. I'm not good at starting conversations, and I'm always worried about what people might think of me.

But one day, I decided to try using affirmations to build my confidence. Affirmations have been a part of my daily life for quite some time. I never really considered using them to attract positive relationships into my life. It was clear to me that the reason I was having difficulty making new friends was because I lacked confidence. I started repeating to myself "I am confident and likable. People enjoy being around me." I also imagined myself having enjoyable conversations with new friends, and feeling confident in social situations.

Slowly but surely, this began to change how I felt about myself. I started to feel more confident when interacting with people, and I began to form new connections. We're always works in progress.
Hopefully, these affirmations will help guide and inspire you when attracting new, positive relationships into your life. Practice these affirmations daily with intention and gratitude. Don't forget: you have amazing energy to offer the world, and you are worthy of friendship!
"Getting to know new people and gaining new friends is one of life's greatest pleasures. So conquer your fears and get out there."

– Tony Clark