A bullet journal is a journal that uses bullet points, lists, and simple graphics to plan your day, week, or month. Over the years, people have become very creative with their bullet journals! You can add art, drawings, quotes, or decorate it with anything you'd like! There are no rules.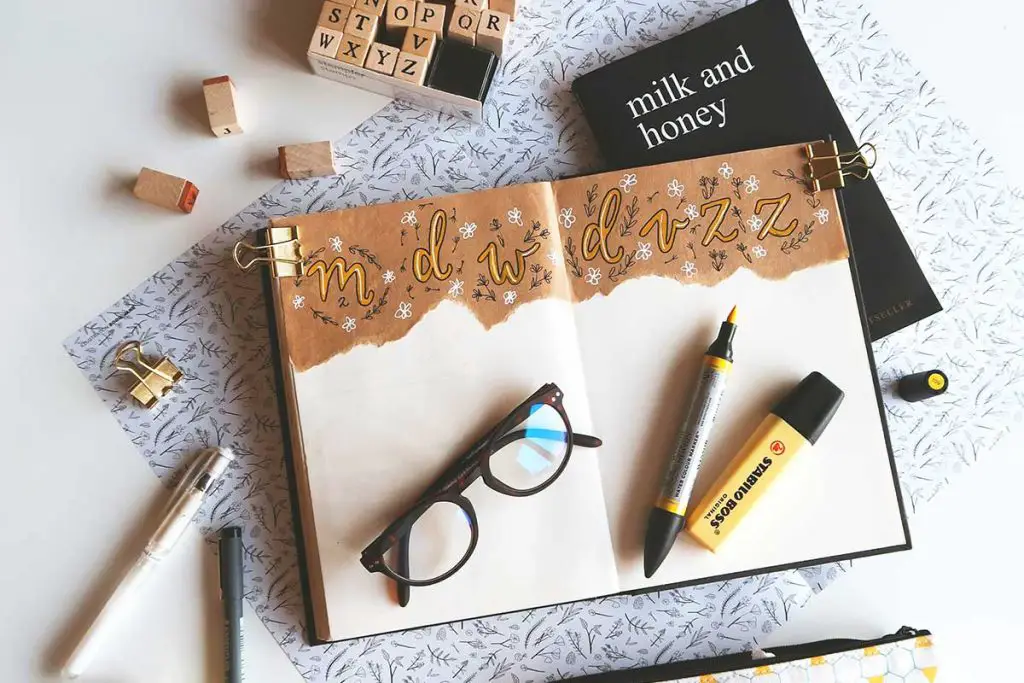 There are many types of journals you can create. Bullet journals can help tremendously with organization and productivity. It's been a fantastic way for me to easily see what I need to do each day. I have a traditional paper journal, but I have been convinced that my bullet journal will soon be "the one" and my paper journal will be retired.
I've seen everything from bullet journaling in moleskines, to people having several notebooks that they switch around. It's a personal choice!
What do you need to start bullet journaling?
See the end of the article for a recommend list of journaling supplies.
Somewhere to journal: A notebook is a good start, but anything that is small, easy to carry around, and has blank pages will do. If you plan on carrying your bullet journal with you throughout the day, then a small notebook will do.
I personally use a small 5×8 moleskin journal for my bullet journal, but it's up to you on what you want to use. Some other options could be a simple composition notebook, or even the bullet journal's paper pads.
A way to write: Any pens you prefer. I personally use a Pilot Metropolitan fountain pen, and it works perfectly fine. Again, if you want to carry your journal around with you, a regular pen, pencil, or even a sharpie will do.
You can also use your phone! There are plenty of bullet journal apps out there, and they can help you take notes, organize your thoughts, map out the week ahead, and more.
I wouldn't recommend using anything other than pen and paper (or an app) for your bullet journal because one point of having a bullet journal is to make your life easier. The act of writing things down by hand helps you learn, process what you write, and remember events better.
The key to bullet journaling is not in the tools you use but in making your own system that works for you. If you prefer to use a journal with pre-printed pages, great! If you want to make your own notebook, wonderful! You can buy pens or pencils, whatever you prefer.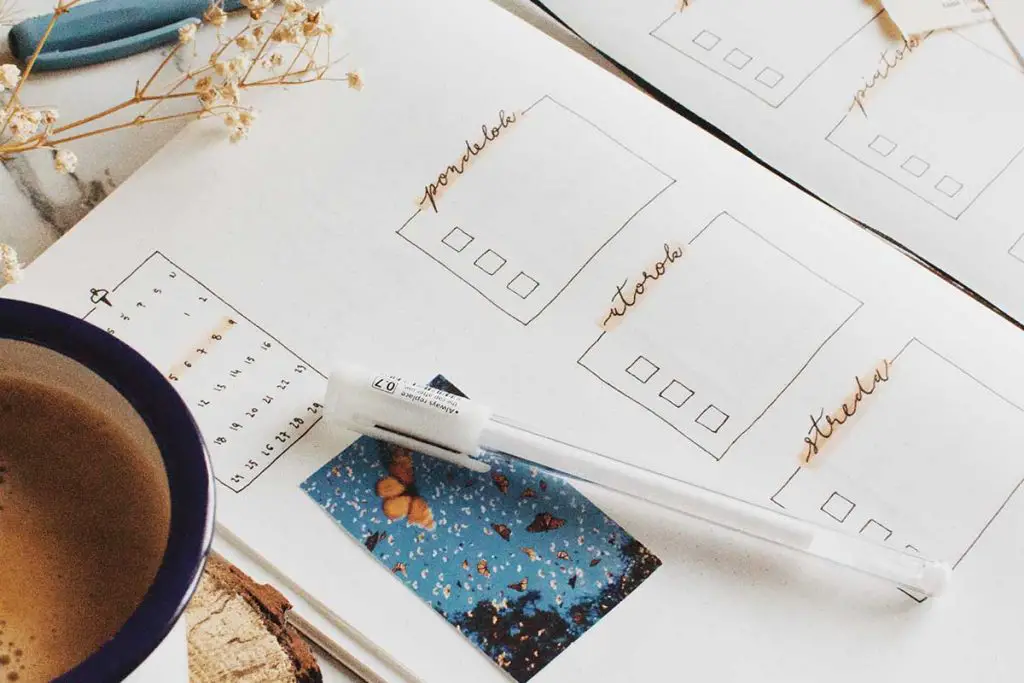 I've said it before and I'll say it again. The most important thing to remember when doing any bullet journaling is that there are no strict rules. All the ideas in this article are simply suggestions. You have the freedom to put your own unique twist on any kind of journal you make.
Another thing to remember is that you don't have to stick with a single layout. You can mix and match layouts as needed, try out different pens, pens, make your own layouts, etc.
Rather than creating a page with a single layout, try creating several layouts for different notes. You could start by separating your bullet journal into several sections, each with a different layout.
24 bullet journaling ideas for beginners:
Wish lists: Bullet journaling can be used to create a wish list. You can use anything from small post-it notes, to paint swatches, even pictures. You can use your bullet journal to create a wish list of anything you might need!

To do lists: For each day or week, create a to do list.

Collections of quotes: A common bullet journal staple, a quote can be a great way to give yourself some inspiration. Create a layout dedicated to quotes, or just use it whenever you come across one that stands out to you. You can either write them out in full, or underline words or phrases that stand out.

Gratitude lists: List three things you are grateful for, or three things that happened today. It's a good idea to do this every day because it helps you realize that there are amazing things happening in your life, even when it doesn't feel like it.

Notes on your day: You can keep notes about each day in the form of a journal entry, or you can create a page for each day. If you have a busy schedule, the latter might be a good idea.

Habit Tracker: A habit tracker is a great way to break bad habits, or form good ones. You can add a simple list of habits you'd like to add, or you can create a full layout for your tracker.

Bucket lists: Put together a list of things you'd like to achieve in the future. You can make an annual bucket list if you want, or one for each month.

Upcoming appointments: If you use your bullet journal to keep track of appointments, create a separate layout designated for events. This way, when you're planning out the week, you can check your monthly calendar to see what is going on.

Calendar: It's a good idea to include a monthly calendar in your bullet journal. Bullet journaling is all about designing your own system, so you don't need to include a calendar if you don't want to. However, if you enjoy planning out the month ahead on a page by itself, go for it!

Goals for the week: You can either create a new layout every week, or you can have all your layouts for the month and create a separate section for each week. If you have a busy week, create all your weekly layouts at once so you don't forget anything!

Notes from a favorite show or podcast: If you enjoy listening to a podcast or watching your favorite show, take notes on it in your bullet journal. You can create a list of fun facts, or jot down quotes that stood out to you.

Notes on your favorite recipes: If you like cooking, take time each week to jot down your favorite recipes in your bullet journal. You can list the ingredients and directions, or make a note of what you like about each dish.

Notes on books you're reading: If you're an avid reader, keep track of your favorite books in your bullet journal. You can list the author's name, the title, and a synopsis of each book. You can also create a list of quotes from your favorite books.

Plans for a future project: Bullet journaling is often used to keep track of your personal projects, so create a layout specifically for this.

Meditations: Try using your bullet journal as an aid to meditation or mindfulness. You can create a layout with specific prompts, such as "focus on my breath" or "focus on love." You can also create a layout with various quotes to contemplate.

"Things to remember" section: This is a great layout for things you want to remember, including recipes, quotes, inspiration, etc.

Travel planner: If you like planning out your future travel, make a separate layout for it. You can list places you'd like to see, other people's recommendations, and things you need to do for upcoming trips.

Monthly and weekly mood trackers: You can use a mood tracker in your bullet journal to track how you feel each day or week.

Monthly and weekly challenges: If you'd like a challenge, try a monthly or weekly challenge. You can create a layout with specific prompts to complete for each day or week.

Monthly work schedule: Track your weekly hours in a separate layout or section of your bullet journal. You can also jot down specific tasks to complete.

Keep track of gift ideas: If you're shopping for gifts, create a list of gift ideas in your bullet journal. You can also keep track of birthdays throughout the year so you always know when to get people gifts.

Highlights from the day or week: Create a layout dedicated to the best parts of your day or week. You can include photos, drawings, and lists.

"Now and next" layout: Create a layout with all your daily tasks and errands. This way, you can plan out the week ahead and keep track of what needs to be done. You can also include notes on what you've already completed for the day, week, month, etc.

Healthy habits/eating tracker: Keep track of your health goals with a specific layout. You can list how many servings of vegetables you've eaten each day, or the number of miles you've run.
As far as pens and paper go, you can use pretty much anything you want. You could use a highlighter or colored pens for your weekly mood trackers. You could use colored pencils to color in your monthly calendar. The possibilities are endless.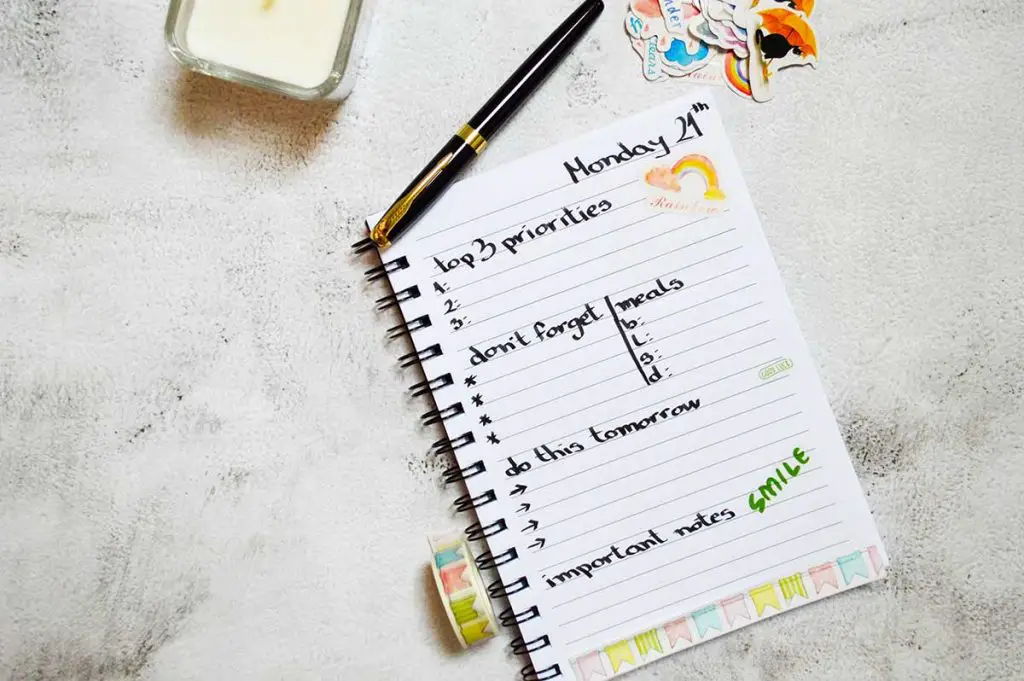 You can also use any kind of paper you want. I enjoy using the Leuchtturm 1917 Dot Grid Notebook because it has a good weight and feel to it, the dots on the paper don't show through the ink from the pen I use, and because it's a hardcover journal, it's durable. You could also use a lined composition notebook for these bullet journaling ideas, or you could use a simple spiral notebook. It all depends on your preferences.
How to stick to bullet journaling
If you ever get overwhelmed at the thought of setting up your own journaling system, you might want to start small. Think of bullet journaling as an art that you're learning.
With any new skill, there's a certain amount of time involved in the learning process. It's common to feel like you're not progressing as quickly as others, and it might seem like your journaling system is failing. If you start small and decide to test out a few ideas or layouts, it might make the process easier to handle.
Setting up a journal and planning to use it for an entire year can be incredibly intimidating. With that being said, you could always create a bullet journal layout for the entire year in advance. You could also decide to go all out and set up a full journal right away. It's completely up to you how far you want to take it.
Bullet journaling supplies
If you're new to bullet journaling, you may feel overwhelmed with all the different supplies out there. There are pens, notebooks, washi tape, stickers, etc. Where do you start?
The best thing to do is to pick a combination of a pen and a notebook that you like, and then test it out. Don't go crazy buying up every type of notebook and pen that you like. You may discover that some pens feather or bleed through the paper of the notebook you like.
You could buy one or two notebooks and pens to see how you like them before adding more to your collection. Try out a few different pens and notebooks, then decide which ones you like best. If there's a pen or notebook you try that doesn't quite work, you could always give it to someone who would enjoy it.
Here are some recommendations to help you get started!:
Bullet journaling is a great way to set goals and organize your days. You could spend a little or a lot of time on it. It's completely up to you. You could use these bullet journaling ideas as inspiration to make your own system, or you could stick to what's already working for you. Any notebook and pen could be used as a bullet journal.
I hope this information is helpful to anyone who's searching for inspiration to start their own system! I'm so excited to share this journey with you, and please let me know if you have any questions or need help along the way! Have fun!
If you would like some more information on the supplies, please let me know in the comments! I'd be happy to give my opinions and recommendations!