Vision boards are a popular tool for self-discovery and self-care. Many people have difficulty thinking about their life in future terms, because they so caught up with what is happening right now. A vision board can help you get out of your head and start envisioning yourself achieving the things you want.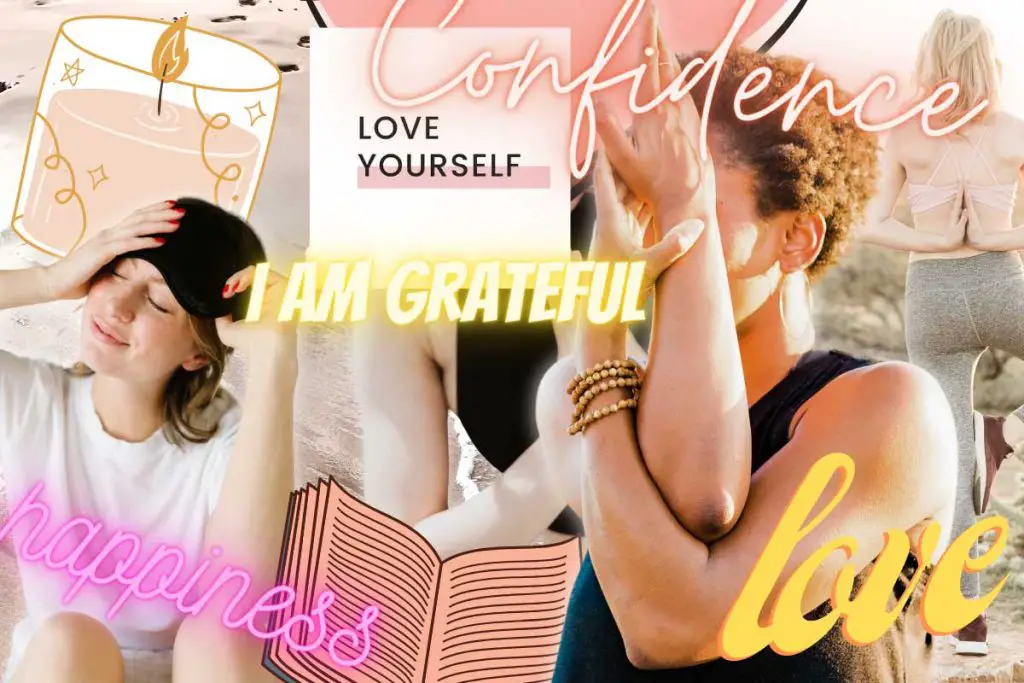 A vision board is a physical representation of your goals, dreams, wants, and needs. It is the perfect way to remind yourself what you want and need out of life. It is also a great way to realign with your values and the reasons you need to stay healthy.
Why make a self-care vision board?
It is not uncommon for people to put themselves last after their job, significant other, children, family, friends and pets. Every day, people are neglecting themselves because they are too busy taking care of others. We often forget that we need to be taken care of as well. Self-care is never something you should neglect. Putting yourself on the back burner can lead to lower self-esteem, lower mood, and poor habits. If all of this sounds familiar, you're not alone. Whether it's daily journaling, affirmations, or creating a vision board, it may be time to get in the spirit of self-care.
Vision boards can be made for fitness goals, to attract loving relationships, or even to inspire wellness and self-love. Your vision board can be made up of any type of media (poster board, magazine cuttings, or even digital photos!). In order to achieve the best results, you should make your vision board with intention and love. Be sure not to rush the process -it should be enjoyable!
You can add to your vision board several days a week before bed, or change things as time goes on. Personally, I like to create digital vision boards. I'll set them as the background on my computer to help motivate and inspire me. I also keep them in my photo gallery on my phone to revisit when I am not at my computer. As much as I enjoy getting crafty, this technique works best for me.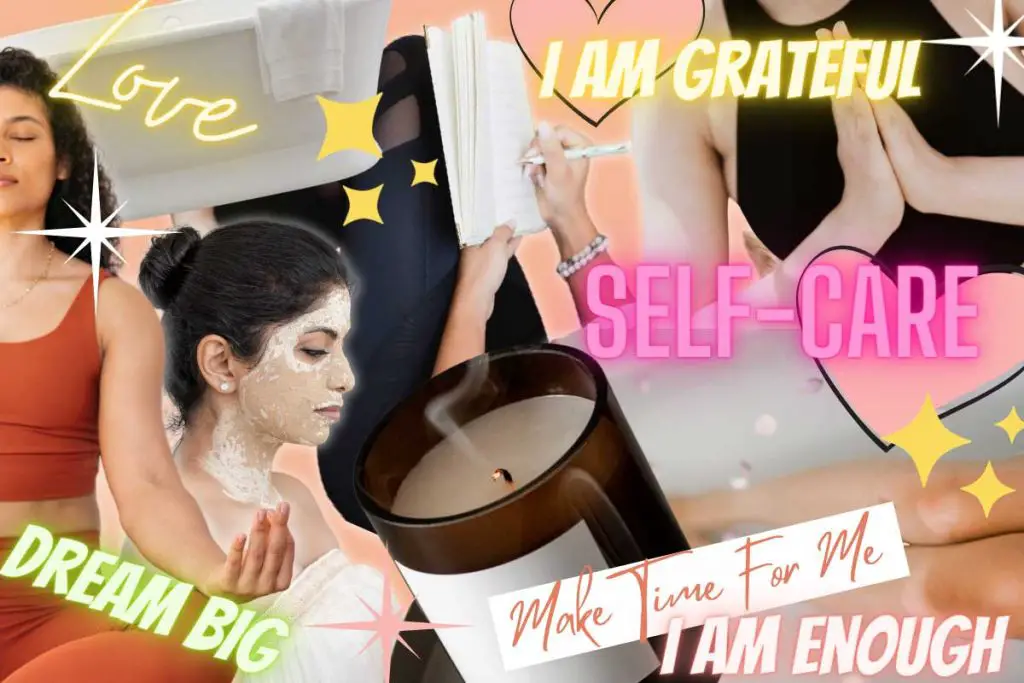 How to make a digital vision board
It's never been easier to make a digital vision board. Have you ever heard of Pinterest? Of course you have. You can make a special board for self-care and pin inspirational quotes and images. There are also many popular free websites that you can use to assemble a digital vision board. I prefer to use Canva.com.
While vision boards are typically personal projects, there are no rules saying you can't create them as a team. Digital vision boards are great for collaborating with other people. For example, if you and two friends share a similar fitness goal, you can all add to one single vision board to keep the inspiration and motivation fresh.
Materials you can use for your vision board
The possibilities are endless! You can draw pictures, glue photographs, and even print off pictures from the internet. You should decorate your vision board with things you want to achieve, places you want to visit and people you want in your life.
This board should align with your ultimate goals and give you motivation to work hard at achieving those. Visuals play a big role in memory, so this is a great way to remember what you want and why it is so important.
Poster board, cardboard, or large paper
Glue/adhesive
Scissors
Magazines, newspapers, and books you don't mind cutting from (Thrift stores are great for this)
Photographs
Stickers, glitter, and decorations
Paints, markers, crayons, and pencils
Quotes printed from the computer, or handwritten
Artwork
Bulletin board (if you are opting you make a cork-style vision board instead of a poster or digital)
You can decorate your board with anything that inspires you. Your vision board should bring you joy and motivate you to make positive changes. Here are some ideas on what to include on your self-care vision board:
Inspirational quotes
Positive affirmations
Photos on the theme of wellness and fitness
Photos of beautiful, relaxing places
Photos of yourself smiling
A list of things you're grateful for
Creating your self-care vision board
The great thing about this self-care project is that there are no rules set in stone. Your vision board is uniquely you. While some people may find they are more motivated by inspirational quotes, another person may need colorful visuals to inspire them.
Step 1 – Take some time to reflect
Before you gather materials and supplies, it's best to spend a couple of hours reflecting on your self-care goals. Are you looking to looking to spend more time nurturing your mental health, or are you trying to be more mindful of your physical health? Perhaps it's a combination of both. If you're looking for inspiration, the Self-Care Wheel is a great place to start. You'll also want to set some timeframes for these goals.
Step 2 – Get Crafty
After you have written some clear, concise goals, it's time to get started on your vision board! Using a pen or pencil, roughly plan where you want things to be. Then, get crafting! This is the fun part. You can begin gluing pieces together on your vision board, overlapping photos and quotes until the entire board is complete.
Step 3 – Give it a home
When you're finished, be sure to take a photo on your phone! This way, you can revisit your board when you aren't home. When your vision board is complete, place it somewhere you can see!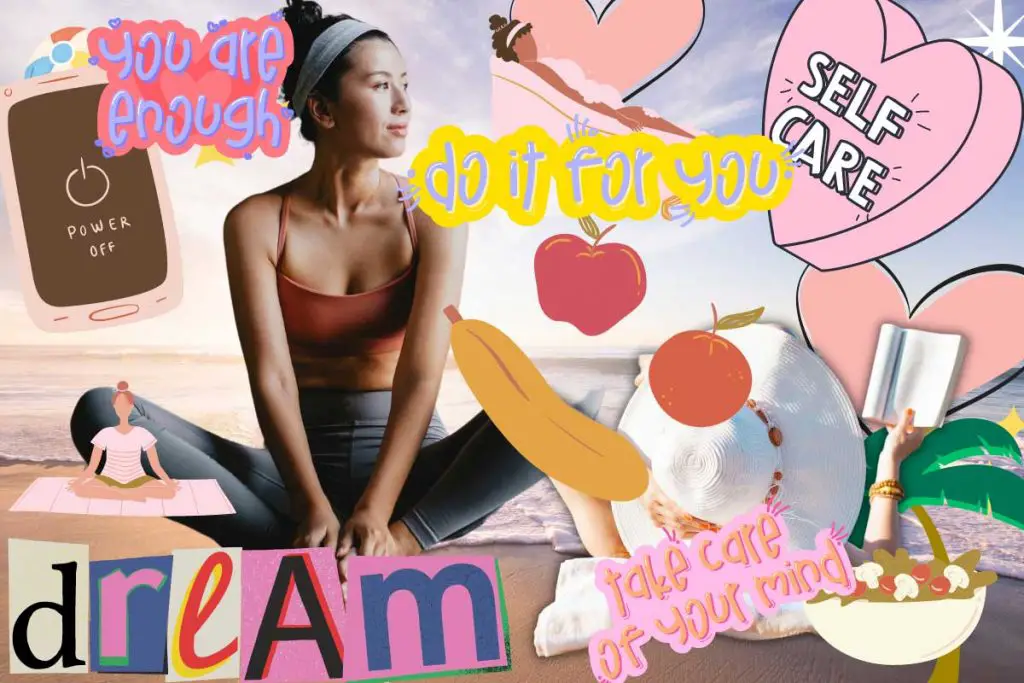 Vision boards have been said to help people heal from emotional traumas, manifest their dreams, and clarify their purpose in life. It is a welcome break from the monotony of everyday life and the routine tasks that need to be performed. It is a way to inspire you, motivate you, and refocus your mind on your genuine desires.